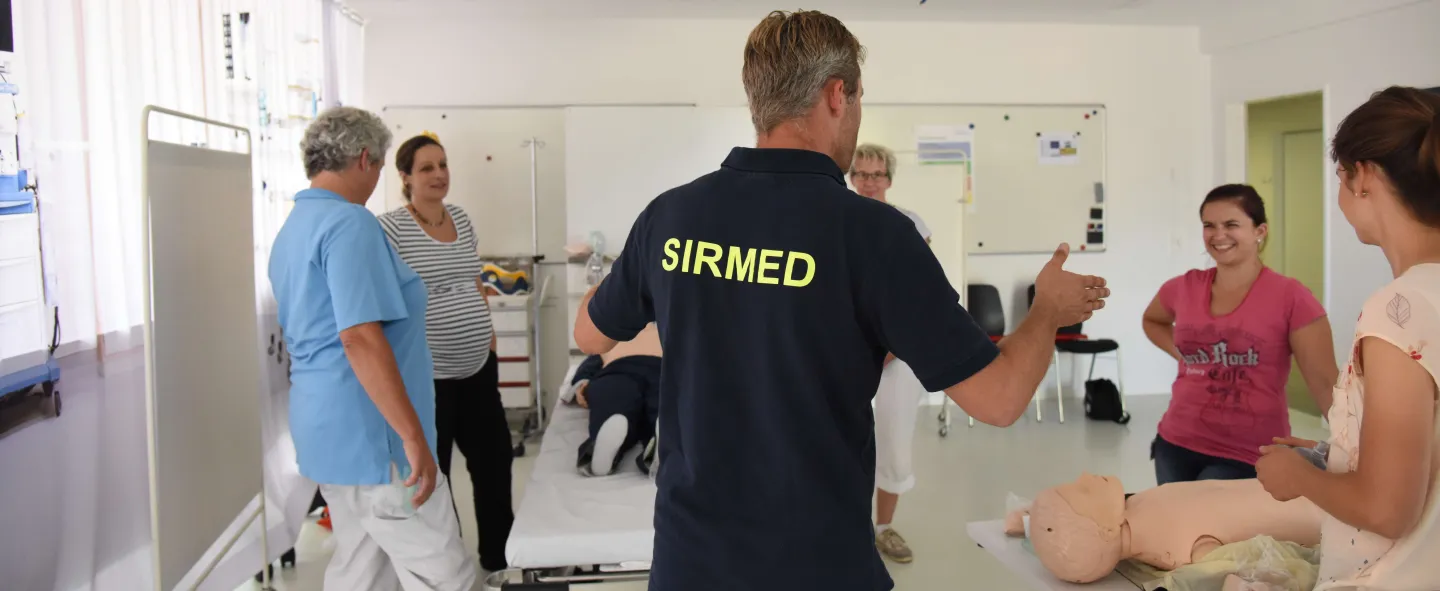 About us
Who is behind SIRMED?
SIRMED, the Swiss Institute of Emergency Medicine, is a non-profit organisation supported equally by the Swiss Paraplegic Foundation SPF and the Swiss Air Ambulance Rega. 
SIRMED pursues the vision of the best possible acute care at the accident site, during transport, and in hospital for every person in an emergency situation in Switzer-land. 
The core competency of SIRMED is to provide emergen-cy patients with the best possible care. SIRMED offers high-quality training, further training, and continuing education in emergency and rescue medicine for profes-sionals and laypeople, and is actively involved in the design of rescue and emergency medicine procedures, as well as of rescue service training in Switzerland.
Since its foundation, more than 80,000 people have taken part in SIRMED educational opportunities. 
 
Swiss Paraplegic Foundation SPF
The aim of the Swiss Paraplegic Foundation is comprehensive rehabilitation of people with a spinal cord injury. To achieve this aim, it implements and supports measures in accordance with up-to-date scientific and technical findings.
The SPF is one of the largest non-profit solidarity networks in Switzerland. According to the 2017 Public Value Atlas, the Paraplegic Foundation is rated as one of the organisations in Switzerland with extremely high social benefits for the population. Through their membership in the Benefactors' Association of the Swiss Paraplegic Foundation, 1.9 million people ensure a sustainable financial basis for the work of this solidarity network. Since the foundation was established, funds of more than one billion Swiss francs have been raised from membership fees, donations and legacies. The SPF was founded by Dr. med. Guido A. Zäch in 1975.
Together with its subsidiaries and partner organisations, the Swiss Paraplegic Foundation makes up the Swiss Paraplegic Group (SPG), which includes the Swiss Paraplegic Centre, Swiss Paraplegic Research, the Hotel Sempachersee and the Swiss Institute of Emergency Medicine.
Swiss Air Ambulance Rega
The Swiss Air Ambulance Rega was founded in 1952 and provides rapid and professional medical assistance from the air for people in emergency situations. It em-ploys extremely highly qualified and experienced mem-bers of staff and state-of-the-art rescue helicopters and ambulance jets. Rega acts in accordance with medical necessity and provides a service for patients. As a pri-vate, non-profit foundation it acts independently of the state and financial interests. The annual contributions of more than 3.4 million benefactors enable Rega to remain operational. They keep Rega in the air for the benefit of the Swiss population.
To fulfil its mandate, Rega aims to reach any location in its operational area in Switzerland within 15 minutes' flying time in the rescue helicopter. Twelve Rega heli-copter bases, plus a partner base, located throughout the country make this possible. However, Rega not only provides assistance within Switzerland, but also uses its three ambulance jets to repatriate people who are ill or injured abroad. From its headquarters at Zurich airport Rega jets set off on repatriation missions around the world. 
The Operations Centre at the Rega Centre at Zurich air-port organises more than 16,000 missions every year. It can be contacted around the clock – in Switzerland via emergency number 1414 and from abroad by calling +41 333 333 333.
Werden Sie jetzt Mitglied und erhalten Sie im Ernstfall 250 000 Franken.
Mitglied werden