International FES Centre®
International FES Centre® – Functional Electrical Stimulation
In 2018 we opened the International FES Centre®for inpatients and outpatients in the area of neurological and musculoskeletal rehabilitation.
FES at the Swiss Paraplegic Centre (SPC)
Treatment
Functional Electrical Stimulation (FES) was introduced as a treatment method at the SPC in 1992. Since then, it has become an integral component in the rehabilitation of both inpatients and outpatients. All requirements for functional electrical stimulation in the musculoskeletal area are met, as listed in the guidelines issued by the International Functional Electrical Stimulation Society (IFESS).
This comprises the integration of all modern technologies in the domain of electrical stimulation. This implies the application of functional electrical stimulation (FES), neuromuscular electrical stimulation (NMES) and direct muscle stimulation. Moreover, various types of robotics and exoskeletons with integrated FES come into play.
The combined treatment with classical therapeutic treatment modalities and simultaneous electrical stimulation is carried out in respect of the standards of the International Functional Electrical Stimulation Society (IFESS).
The following electrical stimulation treatment modalities are offered: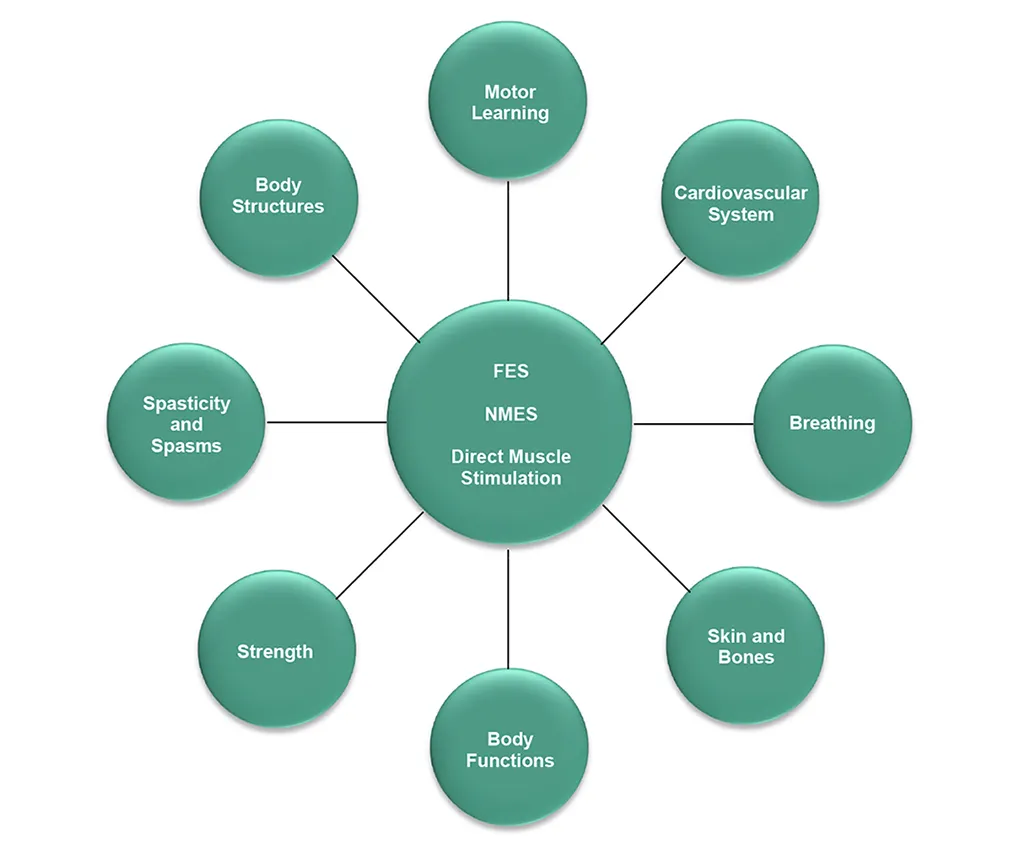 What is "functional electrical stimulation"?
Functional electrical stimulation is a treatment method that acts on muscles using electrical pulses rather than neural stimuli, and which results in the contraction of one or multiple muscles. Electrical stimulation can have a supportive effect in order to achieve a new level of functional balance, i.e. to support or replace functions.
When using electrical stimulation, electrodes are placed on the skin and then used to create an electrical field. Under the influence of this electrical field, the activation of nerve and muscle tissue is artificially stimulated, and the muscle contracts. Electrical stimulation is used below the lesion to stimulate the nerves in patients with damage to the upper motor neurones, and it is used to directly stimulate the affected muscles in patients with damage to the lower motor neurones.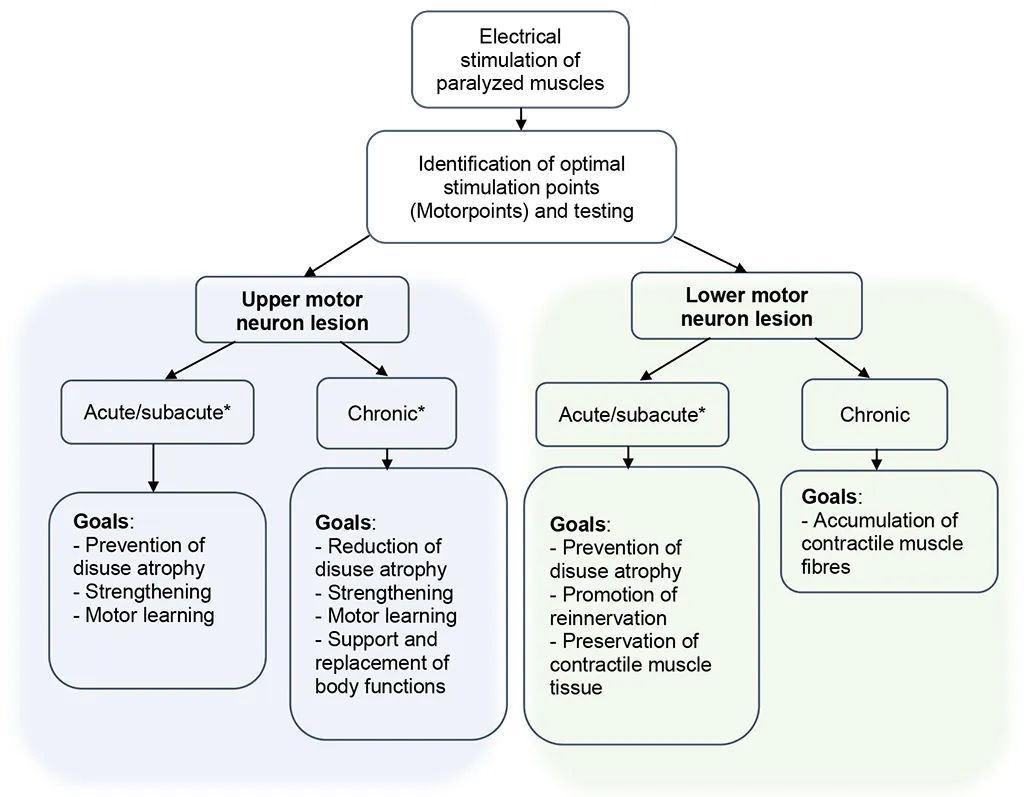 Research
We conduct scientific research aiming to improve and reinforce the evidence regarding the methodology of FES administration. These clinically relevant studies focus on the investigation of the effect of electrical stimulation on body functions ad structures in people with spinal cord injury and other neurological diseases. The goal of the studies is to prove the relevance of this treatment method and to integrate the results into the treatment standards in the long term. The ultimate goal is to improve the quality of life of people with spinal cord injury and other neurological diseases experiencing limitations in their mobility.
Ongoing studies at the SPC
Education
We offer advanced training and education. Once a year, we organize a 2-day certified course. It contains topics from everyday life of clinicians and therapists, in which electrical stimulation can be applied. The internationally announced always takes place on the third Friday and Saturday in November. During this course, you will learn the theoretical basics as well as the practical skills needed for the application of electrical stimulation. Furthermore, an interprofessional and international exchange can take place.
Additionally, we organize the "International FESventures" thrice a year. These are 1.5 hour webinars that take place in the early evenings and aim to provide learning snacks about different topics regarding the application of FES, NMES and direct muscle stimulation.
We also accept advanced training or education inquiries from external private practices and hospitals.
Inpatient care
Inpatient care for patients receiving FES is provided by the treating therapists, specialists, and therapeutic experts in the FES area.
A continuative treatment in the International FES Centre® and a lifelong follow-up care are guaranteed.
Outpatient care
Care for outpatient referrals, including follow-up care.
Care for all post-inpatient patients with functional electrical stimulation is provided on a prescription basis and via a subscription system.
A referral of outpatients to the International FES Centre® is possible.  There will be an evaluation of the situation followed by a discussion about whether electrical stimulation is indicated and how it should be administered in the most optimal way (i.e. FES, NMES or direct muscle stimulation).
Furthermore, it is possible for outpatients to obtain treatment by health professionals from various departments that allow to combine and integrate methods and technologies relying on electrical stimulation (e.g.: foot drop systems, stimulation devices for arm and hand).
We provide follow-up care with electrical stimulation of inpatients after their discharge who have a prescription.
Patients from abroad have the possibility to receive a consultation at the International FES Centre® in order to investigate the different possibilities to implement electrical stimulation as a treatment modality. This 3-hour consultation comprises diagnostics, treatment and the testing of different stimulation devices and systems.
FES services / treatment methods
FES represents a multifaceted treatment method that is ideally combined with occupational therapy and/or physiotherapy. The stimulation programmes and relevant parameters should, however, be selected on a case-by-case basis. As a rule, the use of standard programmes has not provided promising results.
Structure
Links
References
Administration office hours
Monday to Thursday
8 am to midday
1 pm to 5 pm
Friday
8 am to midday
1 pm to 4 pm
Werden Sie jetzt Mitglied und erhalten Sie im Ernstfall CHF 250 000 Gönnerunterstützung.
Mitglied werden