Transition – when young patients grow up
A lot of things change in the transition from being a young person to being an adult;
that includes needs relating to medical and rehabilitative care. Perhaps young patients would like to learn to catheterise themselves and find out what types of sporting activity are appropriate for them. Or they may have questions concerning their professional future and driving a car.
 
What is transition and when does it start?
The term "transition" refers to making the move from child and young person medicine/rehabilitation into adult medicine/rehabilitation. Transition ensures that going from being a young person to an adult takes a planned and structured course. This avoids incorrect or inadequate provisions, and ensures young patients continue to receive specialised treatment. Making a change is necessary because paediatricians are generally no longer able to work with patients after their 18th birthday. The time of the change depends on the individual, but most young people make the change when they are aged 16. Different children's clinics set out differing age limits for completing the transition process.
There are several points that need to be taken into account when choosing a clinic for adults:
What services does the clinic offer? Do these services fit my needs?
Where is the clinic located? How do I get there – public or private transport? Can I attend the clinic without someone to support me?
Will I continue to live with my parents? Will I move to a different location for school/studies or a job?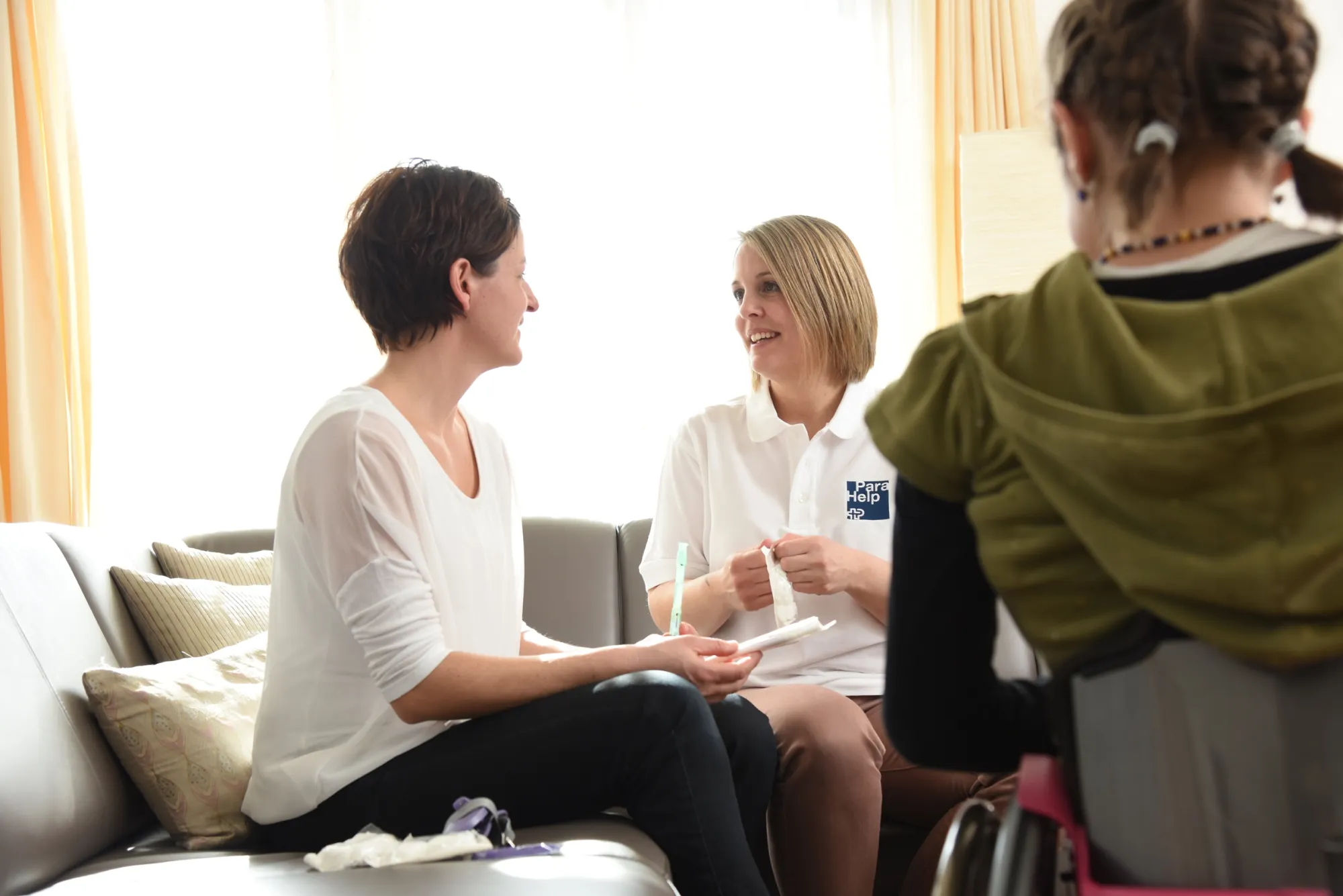 What's the team like at the SPC?
The transition team at the SPC is an interdisciplinary support team. The team consists of doctors and therapists, and is aligned to the needs of young people. It is generally made up of:
a ParaHelp case manager: supports and organises the switch from children's medicine to the SPC.

A doctor: discusses medical and rehabilitative matters with patients, and adapts therapies were required.
(Neuro-)Orthopaedics: Changes to the musculoskeletal system caused by disorders of the central nervous system are paid particular attention in neuro-orthopaedics.
Neurourology: Bladder function is monitored in Neurourology.
The young patients receive support from other areas when needed, e.g. Urology, ParaWork (occupational integration), Speech therapy, Nutritional counselling, Psychology, Social advice, Wound management, Plastic surgery, Gastroenterology, Sports medicine etc.
 
What should I do once I've decided to transfer to the SPC?
If you have taken the decision to switch to the SPC, you must tell your doctor in the children's hospital that you would like to receive ongoing treatment at the SPC.
Your paediatrician will register you. Generally, an appointment is planned in the children's hospital at which you, your parents and your paediatrician, as well as a doctor from the SPC and a ParaHelp case manager will be present. This will give us chance to get to know each other and guarantee a well-considered transfer.
Checklist
Do I know where I want to go for further care as an adult?

Do I have enough information to switch to the SPC?

Have I informed the children's clinic about my choice?
If you have answered YES to all questions, you're ready for the definitive transfer to becoming an adult. We look forward to getting to know you!
The following may also be of interest to you
Werden Sie jetzt Mitglied und erhalten Sie im Ernstfall CHF 250 000 Gönnerunterstützung.
Mitglied werden