Orthotec portrait
Orthotec AG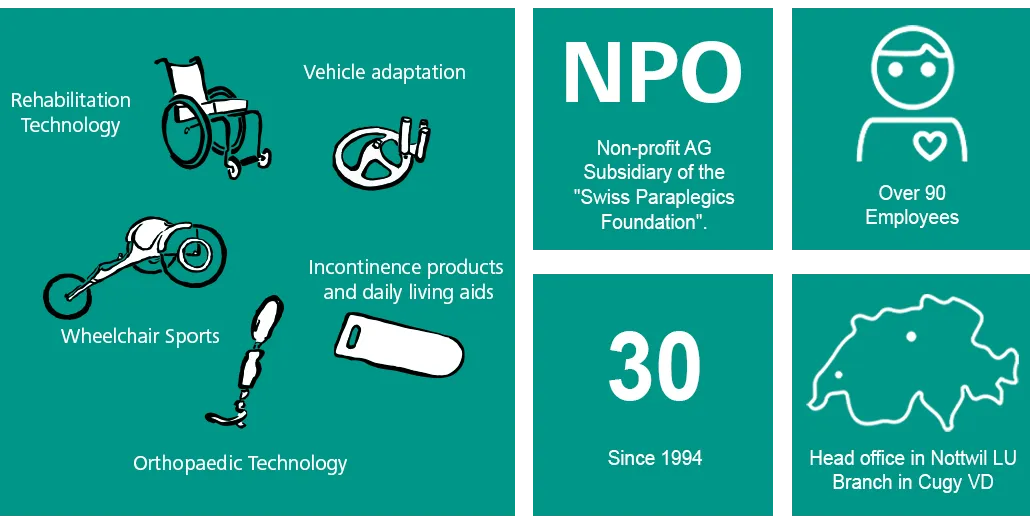 Orthotec offers aids and services to promote freedom of movement for people with a spinal cord injury and similar limitations. Orthotec AG was founded in 1994 and is a charitable subsidiary of the Swiss Paraplegic Foundation. Our team has more than 90 employees. Our five areas of competence comprise: vehicle adaptation; rehabilitation technology; orthopaedic technology; incontinence products and daily living aids; and wheelchair sports.
We work all over Switzerland, with our headquarters in Nottwil and a branch for vehicle adaptation in Cugy (Canton Vaud).
Our team
Our Management team
Annual report
Our brand
The Orthotec brand stands for #freedomofmovement. We encourage this with our aids and services. Our vision is for everyone with a spinal cord injury and similar limitations to be able to lead a self-determined, mobile and dignified life.
What

does

this mean for our customers?
Driving themselves to their destination in an adapted car.

Being out and about in a wheelchair that protects their body and helps them forwards efficiently – in the long term.

Practising sports with the appropriate equipment and

having

fun.

Providing their locomotor system with optimal support by means of orthoses or prostheses.

Gaining mobility and independence with incontinence products (such as catheters or pads) and

daily living aids (such as transfer boards and gripping aids)

.
A tour of the company
A look into our workshops and consultancy rooms Orthotec combines craft, technology, products and services into individual solutions that help you advance in your day-to-day life.
This might also be of interest
Werden Sie jetzt Mitglied und erhalten Sie im Ernstfall 250 000 Franken.
Mitglied werden